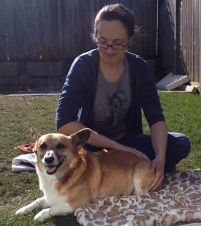 I have always been interested in Reiki healing and the effects it has on both human and animals. My husband and I have a 7 year old corgi Maddox, and a 1 year old rescue mix of some sort Nala. with the arrival of our newborn son we noticed a lot of imbalance in our "fur kids" and I thought Reiki may be worth a try.
Nala, whom is high energy, easily distracted and a handful at the best if times, quite quickly and calmly allowed Marta to start the work. Nala's eyes grew soft and relaxed and the session went incredibly smooth. Maddox who is highly sensitive and reactive was more than eager to allow Marta to work on areas he is normally not friendly about. He allowed Marta to make him feel calm and secure while giving positive feedback.
Both my kids were calm and serene afterwards and brought a whole new sense of balance to the pack life we live. Marta's calm soothing energy provided both helpful feedback for myself on how to better balance my human and fur babies as well as seeing both Nala and Maddox respond to a completely new technique. I would highly recommend Marta for Animal Reiki.
~Danielle W.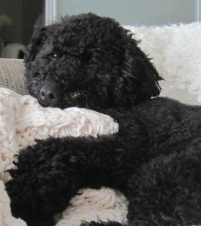 My name is Leo and I had a wonderful massage treatment from Marta Banat this afternoon. It was my first treatment and I loved it. I am so relaxed now and my muscles feel fantastic. I'm generally a pretty active dog and after Marta's treatment, I felt like I was floating on air.
~ Leo
I highly recommend this treatment to any dog of any age, who requires aches or pains worked out in a professional therapeutic manner. I could see that it was a magical experience for Leo. Their circulation is just as important as ours, and what a exceptional way to help maintain overall good health.
~ Deb Tonita, Extremely Satisfied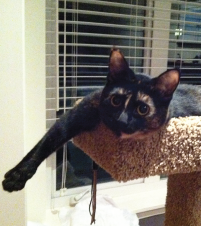 My name is Sophie. About a week ago my people left the ceiling fans on and I thought they were predators. I hid fearfully in the laundry room for the whole week. No one could coax me out. At night I would have to use the litter box but was too afraid to go upstairs. I would cry and my people would carry me to the litter box while I struggled. Marta came and gave me a massage. She has such nice hands and a nice way with me and she took the edge off my terrible fear. That night when they carried me upstairs, I used the litter box and thought, "There's nothing to be afraid of up here". It was over then and now I can go anywhere in the house that I want to. I'm a little tired of the laundry room though…
~Sophie
My name is Anida and I was at my wit's end as to how to help my cat without stressing her even more. I was so impressed with Marta's manner with Sophie. She was very gentle and set a lovely pace, always reacting well to whatever Sophie needed. As an R.M.T., I was very impressed by her knowledge of anatomy and technique, and of course, the great results! Bravo!
~Anida Olsen, RMT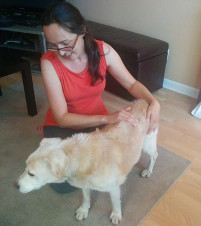 Noa is my beloved old dog (14y). His hind legs are giving him trouble lately, not surprisingly.
I was looking for some relief for him, taking him to the vet is extremely stressful for him. He's a very skittish, anxious, deaf, confused old man. He has never being a friendly dog either… I explained all that to Marta, and as soon as I saw Noa and her together, mind was at ease.
She definitely has the "touch", my dog melted under her gentle hands. I could see in his usually confused eyes, that he was getting some relief, he was almost smiling. My dog has trusted 4 persons his entire life, Marta became the 5th lucky one.
As soon as she was done with the massage, I clearly could see him walking easier.
She showed me how to help him feel better with my hands and a heated pad. It is really helping.
I am definitely using her service again.
Noa approves!
~Christine L.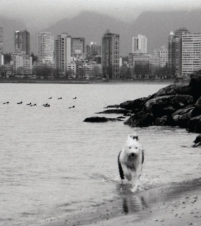 Georgy, our 3 year old Old English Sheepdog and Cookie, our 8 year old Terrier cross are happy to have Marta in our lives. We met while Marta was exercising her own dog, Rocco, at the dog park. Marta has been walking our dogs 3 times a week for the past 2 years. Now, in addition to dog walking and pet sitting, Marta has recently become trained and certified to provide canine massages. Yesterday she gave Georgy and Cookie massages. Lucky dogs!
Both dogs were very relaxed and calm during their treatment sessions. Marta explained what she was doing as she worked and I was impressed with the way she handled both the big dog and little dog. Marta detected a recent dewclaw injury in Georgy's right paw (from jumping over a huge log at the beach) and worked on the ropey tissue in that area.
We highly recommend Marta and her natural connection with animals.
Marta is a true animal lover and very caring person.
~Kathryn and Mark Speakman